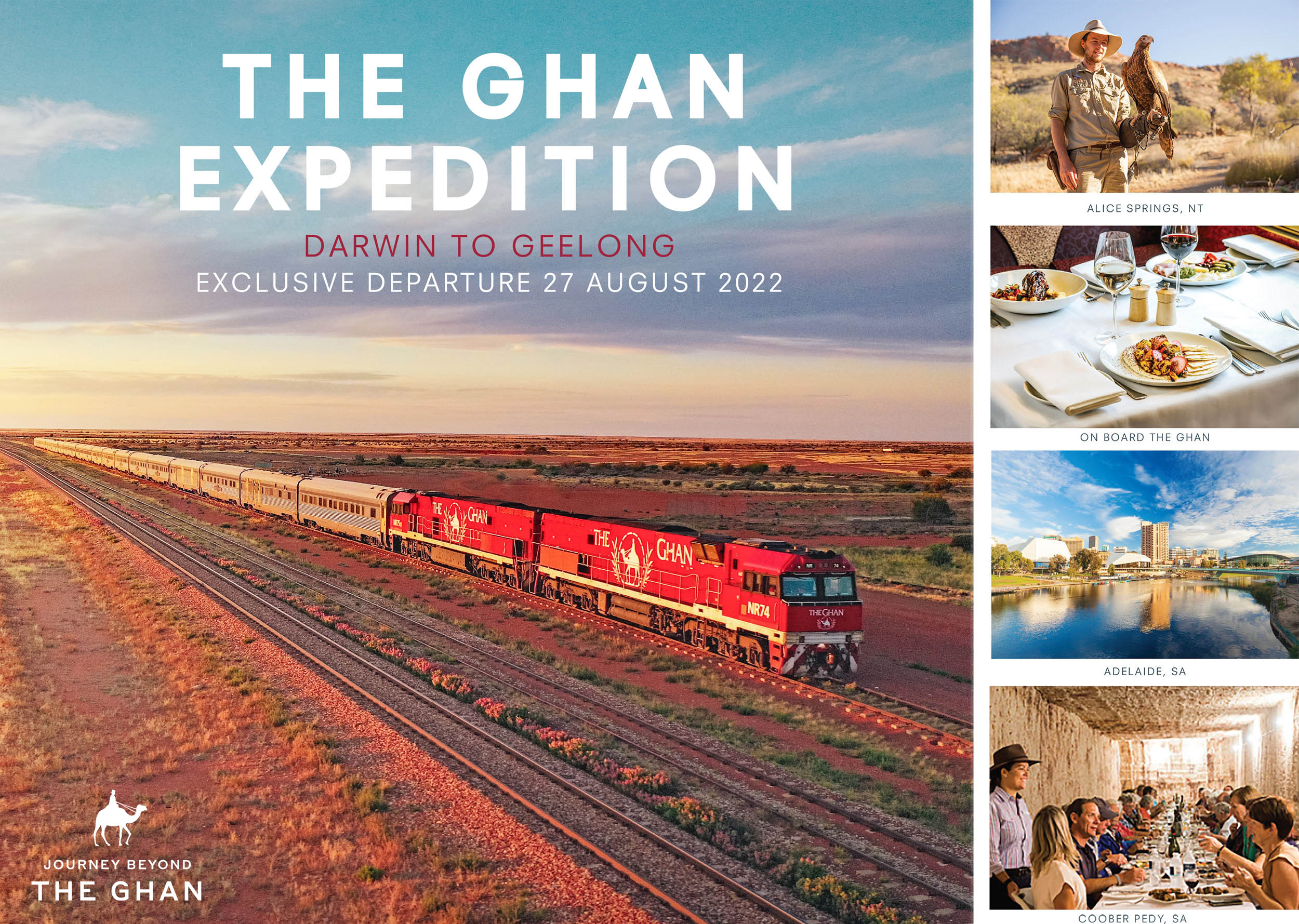 When you first step aboard The Ghan Expedition, you quickly realise it's not just the beginning of a journey, it's the first chapter in a story. This unique adventure boasts an assortment of incredible wonders and gives you intimate access to the incredible landscape. Beginning in Darwin, this all-inclusive experience will take you to some of the most remote and captivating parts of Australia in style and comfort. Discover signature experiences like the spectacular starlit dining experience in Alice Springs. Departing Darwin 27 August, 2022 and arriving in Inverleigh, Victoria 31 August 2022, your adventure through the country's vast and captivating interior will leave you with an incredible story to tell.
Departing Darwin 27 August and arriving in Inverleigh, Victoria 31 August 2022
INCLUSIONS
5 days / 4 nights aboard the first ever Ghan journey from Darwin to Inverleigh

All-inclusive meals, fine wines, and beverages

A regionally-inspired menu paired with a selection of local wines

Off train experiences in Katherine, Alice Springs, and Coober Pedy

Evening off train experience in Manguri

A spectacular dinner under the stars at the historic Telegraph Station, Alice Springs

Your choice between Nitmiluk Gorge's powerful natural wonders and rich Indigenous culture, or a glimpse authentic outback life with a horse and working dog demonstration

Venture into the underground opal mining town of Coober Pedy

Coach Transfer from Inverleigh Station to nominated Geelong/Melbourne locations
EXCLUSIONS
Pre/post departure hotel accommodations

Travel insurance

Flights
Book now on 5244 3666 or fill in the form below

*Advertised price is based on per person twin share in a Gold or Platinum Service Twin. Our rail journeys go through remote Australian regions, which sometimes results in severe weather events, flash flooding, bushfires and remote location medical evacuations. Therefore, it is mandatory to purchase travel insurance, which can be purchased with Geelong Travel to protect you in unforeseen circumstance. Your Rail Journey could be cancelled under one of the following three circumstances: (1) A cancellation arising from your actions, through no fault of JBRE – see 'Guest Cancellations' below (2) A cancellation by JBRE arising from external consequences that make our performance of the agreement impossible (for example a Force Majeure event, or the actions of a third party e.g. new government regulation) – see 'Force Majeure Cancellations'. (3) Any other cancellation by JBRE – see 'JBRE Cancellations'. In the event of a Force Majeure Cancellation, JBRE will provide you with a credit note of an amount equal to the monies paid to JBRE under the booking. The credit note can be applied to the cost of a future Rail Journey or Holiday Package with us. Time limits and other criteria and conditions may apply. For all fare types, in the event of a JBRE Cancellation, JBRE will provide you with the option to receive one of the following (1) an alternate rail service of the same value at a later date; (2) No financial refund. Full payment is required 14 days after booking and is 100% non-refundable. If not sold to 100% capacity the departure does not go ahead and you will receive 100% credit towards your next booking. There will be no financial refund if the trip does not go ahead only 100% travel credit issued. A Service Disruption is a full or partial cancellation of your Rail Journey after your Rail Journey has commenced. In the event of a Service Disruption, JBRE will, subject to its obligations under the Australian Consumer Law, use reasonable endeavours to re-route you to the next destination by any form of transport at JBRE's cost. No refunds are payable for Service Disruptions. We may cancel or modify OTEs DARWIN STAY OFFER: 3 nights at the Adina Darwin Waterfront and a Darwin Harbour Sunset Dinner Cruise experience from due to inclement weather, train scheduling or other circumstances. There are no refunds for any such cancellations or modifications. In order to provide you with the goods and services that are included in your Rail Journey or Holiday Package, we may use third party providers. You agree that we may pass on to you any costs, fees or terms that they apply to us under our agreement with them. All discounts and savings have been applied to the prices. Not available with any other offers. Booking and credit card fees may apply. 100% cancellation fees apply. The fare is non-transferable and non-refundable. Should suspension of services occur due to government-imposed restrictions, 100% of the monies paid will be placed in a future travel credit. Please visit www.journeybeyondrail.com.au/qantas for full conditions. For full terms & conditions visit www.journeybeyondrail.com.au. Prices correct as at April 2021. Holiday Corner T/A Geelong Travel. License No.30370.